Amfx MetalArt Fire Pits –
AMFX Metal Art
AMFX was established in 2011, and we have been designing and producing unique pieces of Metal Art since.
Each piece is individually designed by Allan Morton, and exceptional high quality is the end result.
Allan uses his extensive metal work skills and natural creative flair to hand craft decorative and architectural metal art pieces. These are fabricated from steel ranging from but not limited to: Galvanised, Stainless, Checker Plate and Mild, and can be finished in a natural state, polished or powder-coated to suit your application.
AMFX recently designed the Football Team Fire Pits, and since then we've been inundated with orders. Their popularity has far exceeded our expectations. Why not check out our gallery to see why!!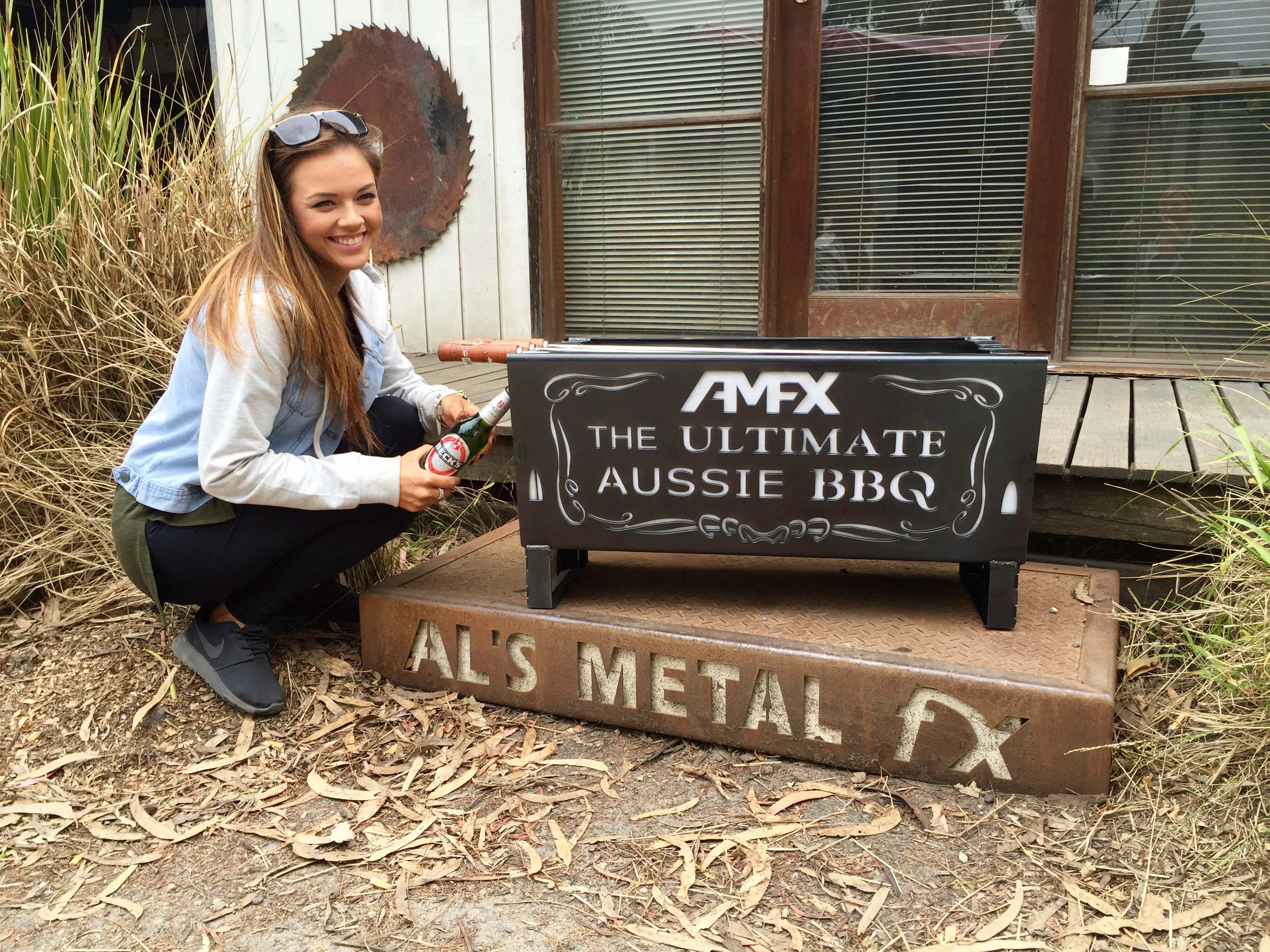 Shop Online NOW
Get them while they're HOT
Melbourne Storm Fire Pit

Dimensions: 790 x 430 x 430mm Material: 3mm Mild Steel Weight: 25kgs Accessories Available: Chilly Bin - $30 BBQ Hotplate - $90 (2 pieces) Rotisseries – from $60 Skewers - $120

$

299.00

or 4 payments of $74.75 with Afterpay

Add to cart
Ultimate Aussie BBQ Fire Pit

Dimensions: 790 x 430 x 430mm Material: 3mm Mild Steel Weight: 25kgs Accessories Available: Chilly Bin - $30 BBQ Hotplate - $90 (2 pieces) Rotisseries – from $60 Skewers - $120

$

350.00

or 4 payments of $87.50 with Afterpay

Add to cart

The Ultimate Aussie BBQ Fire Pit Flat Pack

Dimensions: 790 x 430 x 430mm (Assembled) Canvas Bag (Sides) – 800 x 560 x 60mm Canvas Bag (Ends) – 500 x 560 x 60mm Material: 3mm Mild Steel Weight: 25kgs Accessories Available: Chilly Bin - $30 BBQ Hotplate - $90 (2 pieces) Rotisseries – from $60 Skewers - $120 *Flat Pack photos are example only*

$

400.00

or 4 payments of $100.00 with Afterpay

Add to cart

LARGE Your Choice Fire Pit

**Please describe your design in the Order Notes section of your order on the Checkout page. We need an exact description of what you'd like on each SIDE (long) and each END (short). If you'd like to have your own logo/image cut out of the fire pit please order the Custom Image Fire Pit** **We can also add a name/date etc to an existing design for the same price**

$

520.00

or 4 payments of $130.00 with Afterpay

Add to cart

Seconds Sale Fire Pit 2

This 1/2 Melbourne Storm 1/2 Essendon fire pit actually has nothing wrong with it. 1 was ordered and 2 were made, so we have an extra. You get to take advantage of the opportunity to save yourself some money 🙂 We will also throw in a chilly bin!! Valued at $330, selling for $250. A big savings of $80 🙂

$

250.00

or 4 payments of $62.50 with Afterpay

Add to cart
Chilly Bin Tub Insert

The Chilly Bin Tub Insert allows the fire pit to be used as a drink cooler during the summer months. Just add ice and drinks and enjoy!

$

0.00 Select options

Gasmate BBQ Hot Plates

Gasmate BBQ Hot Plates

Hotplate Features:

HotplateReversible - ribbed and flat sides for cooking versatility
Durable Cast Iron
Individually boxed
400mm length

Grill Features:

Raised bar design for a char grill effect
Durable Cast Iron
Individually boxed
320mm length

$

90.00

or 4 payments of $22.50 with Afterpay

Add to cart

Other Design Fire Pit

**Please write the design you would like in the Order Notes section of your order on the Checkout page**

$

300.00

or 4 payments of $75.00 with Afterpay

Add to cart